What's the difference between "restoration" and "preservation"?
You may occasionally find a firm advertising that it will "restore" cemetery markers. What, exactly, does this mean -- and what are they likely to do to your stone?
By definition, "restoration" means making the stone like new. Such an approach ignores the history and patina of the stone and attempts -- using techniques that are often inappropriate and damaging to the long-term preservation of the monument -- to make it look like it did the day it was placed in the cemetery. Restoration firms will often be happy to take on any project. The only critical consideration in restoration is what can be charged the client.
Preservation (or conservation), on the other hand, attempts to keep a stone from deteriorating further, stabilizing it, and ensuring that it is there for future generations. No conservator will claim to be able to work on every type of material or every monument. There are also some critical considerations in competent preservation or conservation work:
Preservation must ensure careful planning
Expedient or easy solutions often compound the problem
Actions should be the least intrusive
Treatments should respect the original fabric
Actions should be, where possible, reversible
All work must be carefully documented in case future work becomes necessary
Perhaps the most important distinction between a restoration firm and a conservator is that the conservator will be a member of the American Institute for Conservation of Historic and Artistic Works and will subscribe to their code of ethics and standards of practice. The conservator will provide you with a treatment proposal, explaining exactly what will be done and how; afterwards you will get a treatment report that specifies in even greater detail what was done and what materials were used.
I see all sorts of information on the Web about how I can glue monuments together myself – What's wrong with that?
You can probably find information on how to remove your child's appendix, but are you willing to try and risk their life? It is no different with a 100-year old stone that can't be replaced. Are you willing to try, only to make matters worse? Here are some photographs of failed attempts to save a few dollars.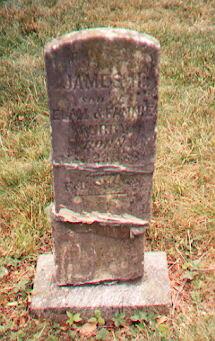 This is a shameful way to treat a monument. Inappropriate adhesives have been used without taking care to either achieve a good, tight alignment of the stone fragments or clean up the excess material. In addition, the continuous joints will create new failure lines.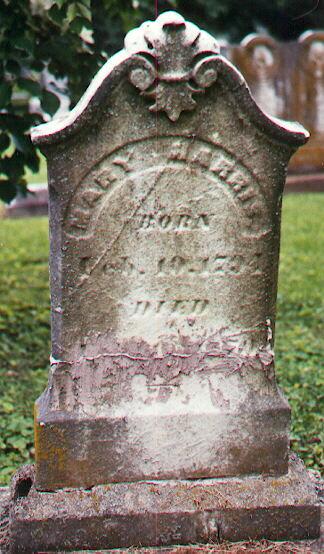 This stone could have been easily repaired by a conservator, but a "do-it-yourselfer" smeared a thick epoxy paste all over the stone in an effort to "glue" it together. The effort has disfigured the stone and has created a repair that, when it fails, will cause even more harm to the stone than the original break.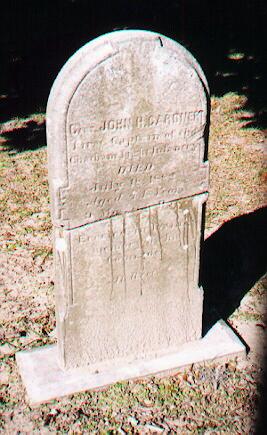 An effort was made to repair this stone using a liquid epoxy which has run down over the stone and yellowed with exposure to ultraviolet light. Like the example above, this stone will soon fail, causing additional damage.

We live in a "do-it-yourself" world, but we must also realize that there are some things we just can't do ourselves -- some things take special training, experience, skills, tools, and materials. These photos provide clear examples of the damage that can be done by "do-it-yourselfers." Stones that are beautiful and that have lasted decades can be ruined in only minutes by well-meaning, but poorly skilled and ill-prepared "do-it-yourselfers."

Does this mean that there is nothing I can do to help preserve my family's monuments?

NO! What it means is that some jobs require professionals. There are still lots of things you can do to ensure your family cemetery is appropriately cared for.

For example, is it carefully and respectfully maintained? Is the grass mowed in a way that protects the monuments and prevents damage? Is debris removed from the cemetery? Are trees trimmed and maintained to ensure that they don't damage stones? Is the cemetery protected from vandals? If the cemetery is owned by someone else, have you spoken to them and worked out an arrangement to allow descendents to periodically visit and maintain the cemetery? Have you and your family members raised the money to fence the cemetery, clearly marking its location? Is the cemetery recorded at your local county clerk of court? Have you recorded and photographed all of the markers in the cemetery?

We also have pages on our web site that explain cleaning stones and resetting tilted or some broken markers.

This link will take you to an article (in .pdf) that will help you secure your cemetery gates against theft.

Simple Tips

We were asked to develop a simple 1 or 2 page handout that dealt with good -- and bad -- repair choices. So we devised 9 More Tips for Cemetery Preservation, after the original 9 tips provided by our friends at NCPTT (http://ncptt.nps.gov/2007/stopping-the-hands-of-time-9-tips-for-cemetery-preservation/). While theirs focuses on issues like planning, community involvement, and documentation, Chicora's addresses repair materials and techniques. It is available here.