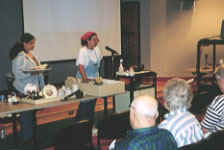 Chicora Foundation is well aware that in an era of shrinking budgets and rising costs, museums, libraries, archives, and historical organizations must maximize the benefits of limited preservation and conservation funding. We work with your team to provide practical, cost-effective solutions for your complex problems.
Chicora will help you develop the training, skills, and programs your institution needs. And we will do it for much less than you may imagine.
Areas of Expertise
Preservation
Care and Handing of Collections -- The longevity of a collection is related to how it is stored, handled, and used. Chicora develops in-house training programs and workshops to help curators, registrars, archivists, librarians, and other professionals sharpen or refine their skills in collection care and maintenance. These workshops discuss different types of objects, the care each should receive, and the types of simple, in-house treatments that can be safely performed.

Preservation Assessments -- Perhaps the greatest problem facing many institutions is the uncertainty of just where to begin their preservation efforts, or how to convince those with the money that preservation is an important issue. Chicora provides detailed assessments of your institution, examining all of the factors which affect the long-term preservation of collections. Such assessments, typically conducted during a one to two-day site visit, include an evaluation of the structure and its impact on preservation, temperature and humidity controls, ventilation and filtration factors, prevention of water damage to collections, security, fire safety, pest control practices and housekeeping, and disaster planning. Chicora will also examine collections, handling and storage practices, patron use of the collections (in libraries and archives), the effects of exhibition practices on collections, and strategies for preservation. The assessment reports generally range from 50 to 80 pages, and provide a foundation for future preservation funding and internal organization.

Integrated Pest Management -- One of the most serious problems facing institutions is the control of pests in collections. Traditional methods have emphasized the use of toxic chemicals -- frequently an expensive and potentially hazardous approach. Chicora provides assistance in the identification of potential pest problems and least toxic solutions. If chemical pesticides are necessary, Chicora helps your institution identify those suitable and helps develop scopes for the necessary work. Although we do not provide chemical treatments, two of our principals are licensed by the State of South Carolina as commercial applicators in the areas of structural pests and fumigation. This expertise ensures that you receive the most current, up-to-date information possible. It also helps us better communicate with commercial pest control firms which may be providing you with service.

HVAC, Environmental Monitoring and Controls -- The effects of temperature, humidity, and pollutants on collections can be devastating. Environmental controls are the first line of defense against collection damage. Effective controls can help ensure the longevity of the collections, reduce pest populations, and reduce housekeeping. Chicora provides institutions with assessments of existing environmental control problems and suggestions on alternative solutions. We assist museums, libraries, and archives select appropriate monitoring equipment, closely matching needs, budgets, and staffing. We assist in the development of monitoring strategies and the interpretation of results. When more technical, specialized expertise is required (for example, HVAC engineers or industrial hygienists), Chicora works with individuals sensitive to the particular needs and requirements of the preservation community.

Disaster Planning and Recovery -- Disaster planning doesn't have to be an impossible chore, and your institution can be prepared. What it sometimes takes is outside assistance, and Chicora can work with your team to develop a comprehensive, working disaster plan in a matter of weeks. And, more than that, we can help you establish recovery procedures, training sessions, and periodic updates of essential information. For institutions with written plans, Chicora reviews procedures, finds weak links, and helps with staff training. Like all of our services, disaster training is individualized, with on-site and off-site consultation and training.

Planning for Preservation -- Many preservation problems never occur if the institution is planned with preservation in mind. Chicora assists your museum, library, or archive develop building programs and work with architects to maximize the preservation potential of your new facility. We also work with physical plant and housekeeping staffs to integrate preservation plans into every day activities.

Fire Safety -- Chicora is keenly aware that the single greatest threat to cultural institutions is fire. Fire can destroy an entire collection, and there is no way to restore collections reduced to ash. We develop and implement steps which help make your facility safer from the threat of fire. We work with your team to develop an awareness of the fire threat among your staff. We also provide training on the proper response to a fire situation.
Conservation
Archaeological Collections -- Chicora continues to be a leader in working to ensure that archaeological collections are appropriately conserved and curated. Our in-house conservation facilities handle a wide variety of archaeological materials, including metals, wood, and leather. Chicora's conservation staff follows the standards set out in the Code of Ethics and Guidelines for Practice by the American Institute for Conservation of Historic and Artistic Works (AIC).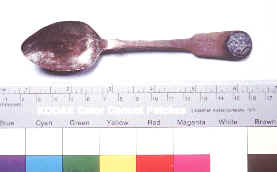 Gravestone and Cemetery Work -- Chicora can provide assistance in cemetery preservation efforts, including historical research, mapping, grave identification, conservation of ironwork, and treatment of gravestones.
Our Services
Chicora provides both on-site consultations and workshops. Although we have standard workshops in a variety of areas, we are also happy to work with your institution to develop new programs or make existing workshops address your specific needs. All of our workshops include hands-on activities and extensive hand-outs.
Our conservation services include treatment of some limited types of archaeological collections, as well as cemetery preservation consultation.
Public Programs
Many of our programs can be adapted for general audiences. For example, we provide programs in cemetery preservation for historical and genealogical groups. And our Preserving Your Family Treasures workshop has been a great success among friends' groups and those interested in learning how they can better care for their antiques and collectibles.
---
One of the best and most respected links to additional conservation and preservation information is Conservation On-Line (CoOL). Check this website out for additional information and ideas. It will also provide links to a number of other organizations that may be able to help you